The Fall of A Giant – Are Subway's Healthiest Days Behind Them?
Published on May 09, 2019
Share
Tweet
Share
Not even a decade ago, Subway was the champion of healthy eating. In fact, they were the largest fast food chain in the world – a juggernaut in the quick-service restaurant industry, with global appeal and massive brand recognition.
But, in the last 5 years, more than 5000 Subway locations have closed.
To say they're struggling would be an understatement. According to their recently filed Franchise Disclosure Document, 2018 was the worst year ever for Subway store closings. They shuttered 1,477 of their franchised locations, which worked out to a net loss of -1,108 locations.
Very few people would have predicted that kind of decline. For comparison, in 2012, Subway closed only 128 franchised locations and had a net growth of +804 locations.
Digging into the Subway FDD a little deeper, state-level data shows problems all over the country:
Alaska was the only U.S. state to see growth — a net growth of +1 location
Eight states had more than 50 store closures, with an average of 28 stores closed per state
The top five states with most ceased operations in 2018 were California (-162), Texas (-125), New York (-113), Florida (-83) and Illinois (-78)
Five states had more than 10% of their stores close in 2018. Delaware, New Jersey, District of Colombia, New York and Nevada closed 18.5%, 16.6%, 13.5%, 11.1%, and 10.1% respectively.
The declining store numbers are having a significant impact on Subway's revenue. Doctor's Associates LLC (DAL), the franchisor that owns the Subway trademark, has seen revenue decline by 21% since 2012.  In 2012, revenue was $1.17 billion, down to only $927 million in 2018.
It's Not A New Problem
Some decline is inevitable. Especially so in the quick-service food industry, where popularity wanes from time to time, prompting some franchisors to pivot some part of their strategy.
But, declining franchise sales and increasing store closures is not a new problem for Subway. The numbers show a growing system-wide problem since 2012. Yearly new store openings have decreased by 55% from 1040 in 2012 to 473 in 2018. Yearly ceased operations have increased by 970% from 138 in 2012 to 1447 in 2018.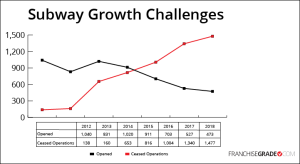 This spells double trouble for Subway and points to a long hard road ahead.
Truly Subway's Problem Not a Fast Food Problem
Fast food franchises have grown significantly in the last 5 years. Three Sub & Sandwich franchise brands; Jersey Mike's, Firehouse Subs and Jimmy John's, grew by over 2000 new stores combined. Subway's largest fast food competitor, McDonald's, also grew by 5% since 2012.
How is it that these four franchises have continued success while Subway declines?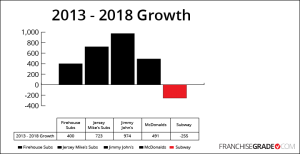 The most shocking statistic is that McDonald's has a total of only 142 stores closed in that timeframe compared to Subway's 5290 stores.  That's only 2.7% of Subway's total over the same period.
Can Subway Make a Turnaround?
As reported by Ed Teixeira over a year ago, there are many potential reasons for Subway's decline. These include the death of Fred DuLuca in 2015, the heinous crimes of spokesperson Jarod Fogle, and the aggressive franchise development strategy that cannibalized franchisee revenues.
Subway is following a traditional playbook when it comes to a rebranding effort. It includes major remodeling investments by its franchisees to create a fast-casual feel, upgrading food quality, technology, adding self-order kiosks and mobile payments.
But its current struggles will not be fixed with these changes. Franchisee satisfaction and unit economics will drive Subway's future collapse or success. Despite their continued decline, Subway has yet to offer an attractive FDD for new investors. The investment risks and lack of validation are scaring off new investors. Subway's investment grade has steadily declined over the last 5 years. We grade the investment risk at an Overall Grade of D.
With significant closures and a lack of an Item 19, it's difficult to evaluate the unit economics of a Subway location. Based on the only data available, store closures, it's safe to assume franchisees are struggling. It's not an appealing brand for prospective franchisees and existing franchisees aren't eager to open more locations.
What this means is that new franchise investors are finding other brands to invest their money into. Subway, like any franchisor, needs its franchisees to be profitable, for continued success. Unfortunately, it might take several years of negative growth before this brand can fix that problem.
Thinking about buying a franchise?
Not sure how much can you afford?

Fill out our Franchise Affordability Calculator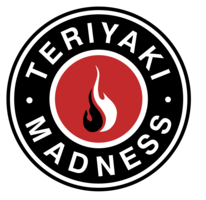 Learn More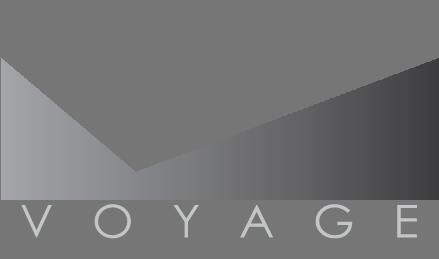 Voyage Franchising
Learn More