Being one of the best franchises is hard.
That's why we created our Best in Class certification.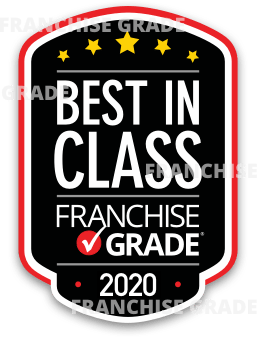 The Best in Class certification.
Being the best doesn't mean being the standard. It means being the stand out. Franchise Grade Best in Class™ gives top performing franchises a chance to let consumers know that they put their investors first.
Our Best in Class ratings are your guide to finding the franchise opportunities that ranked highest in Franchise Grade benchmark studies. All Franchise Grade ratings are based on objective, first-hand franchise data and industry trends.
We factor in key indicators, observations and comparisons of how franchises perform relative to their competitors, to deliver actionable insights across all industries and sectors.
What makes a Best in Class franchise?
Every year, our Research Analysts evaluate more than 3,000 franchise systems, using a comprehensive grading scheme. This grading helps us to identify how each franchise stacks up against its competition and distinguish the best from the rest. When you see the Best in Class icon, you know that the franchise you're looking at ranked at the top of the list.