Naturals2Go Franchisor Profile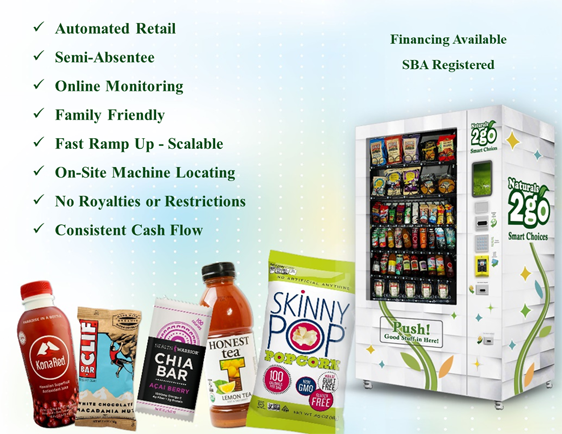 We've Been Doing This for Over 30 Years!
Our Passion ~ Helping You start & build a successful business!
Healthy vending and helping our operator's success is our passion. Helping our operators start and grow a successful business, not just in profits but affording them with a lifestyle that gives them time - time to spend with their family and to do the things they love.
The TEAM at Naturals2Go lives by the Zig Ziglar motto, "If you help enough people get what they want, you'll always get what you want." We are not simply looking for more owner/operators, we are looking for likeminded owner/operators who will run their business based on this same principal. Our founder, Randy Francis embedded the core belief that "the truth is always good enough" in every member of the company. These basic character traits of the organization foster a partnership between Naturals2Go and its owner/operators that last a lifetime.
Naturals2Go Healthy Vending
Teaches you how to be successful
Doesn't require a specific business model or control practices
Has no restrictions on location or area
Doesn't require any employees and has low overhead
Allows for semi-absentee income
No royalties, fees or requirements
Provides you with autonomous options for your business
Allows the operator total independent practices for their company
Support System
Imagine a business that was totally yours, but one that came with the support of an established franchise. A company that starts day one, with a team of workers dedicated to your success. That means, when you want to know how to do something, you could just pick up a phone and ask. If you can imagine this, you can understand the greater support that Naturals2Go offer with your investment.
Simple Business
• No Office Space - Home Based
• No Employees - No Overhead
• Unique Tax Benefits
• Fast Ramp-Up - Minimum Time Required
• Part OR Full Time ~ Scaleable
• Machine Location Program Included in Investment
• No Restrictions on Territory
• A+ rating with the Better Business Bureau
• No Franchise Fees - No Royalties
• A Company with Longevity - Over 30 years in business
• 3 Day Hands-On Training
• Investments that range from $50,000 - $200,000
• Coaching And Mentoring Program
• And so much more
We help the majority of our operators in funding their business.
If finances are holding you up from achieving your dream of starting your own business, we can help. Through our long-time helping people start and grow a successful vending business we have many resources to assist you. It is why we are able to help most of our operators get their business financed and many of them get 100% funding.
We are the only vending business opportunity that has qualified to be listed on the Small business registry for our customers to be able to qualify for funding through the SBA. This is a great option for the long-term growth of your business.
Would Naturals2Go fit for you?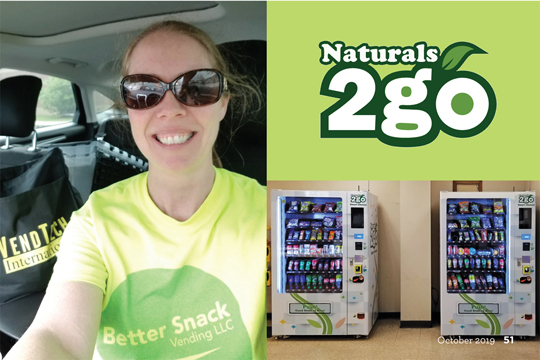 Are you looking or needing flexibility in your live? Maybe you need to take care of a family member or just want more time to spend with your family. Are you looking for a business you can start part time and grow to full time, OR start full time?
Many are drawn to this because of an interest or passion in their health and wellness and who share similar values, including:
interested in building an asset
desire to enhance the quality of their life and others
want to have (gain) control of their future
have true integrity
willing to follow a proven program
has a genuine desire to be successful in life
desire to be in business for themselves
All the Benefits of a Franchise ~ without the cost
Naturals2Go is NOT a Franchise, but we've had over 30 years to build up the knowledge and systems. No one expects you to know how to set up and run a vending business. Our system has allowed for thousands of independent operators to create and grow a successful business at their pace.
You can choose full or part time, choose your locations, and choose how much money you want to earn. The choice is yours. We are here to provide you with support and guidance, not pressure. We know what it takes to get started and from training to mentoring, we're here to assist you every step of the way.

The ability to expand and offer even more selections of products!
The expansion capabilities of the MVP All-In-One give you even more opportunities to offer and even wider variety of product selections and expand your business. These types of markets are becoming more popular as businesses look for ways to keep their employees happily working with access to a full range of refreshments without having to maintain a cafeteria or lunch counter.
The MVP All-In-One machines gives you the capability to add as many as 3 Satellites simply by placing it next to it and plugging it in.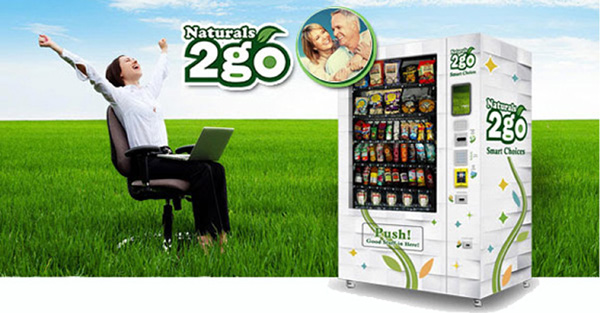 Read about one of Our Operators Eric Copeland
"This is more than just a machine that spits out food and drinks."
Eric Copeland thrived in director-level operations and logistics roles for leading national companies but didn't feel he had reached his full potential. "I felt my career kind of plateaued," he says. Rather than continue trying to climb the corporate ladder, he wanted to fulfill his calling as an entrepreneur. So Copeland, a U.S. Army veteran who holds a finance degree from the University of Georgia, ventured into vending by becoming an owner-operator of Naturals2Go. Offering healthy snack options (plus some traditional offerings for folks with a sweet tooth) the Naturals2Go vending machines are equipped with cutting-edge technology. The technological perks were especially enticing to Copeland. "This is more than just a machine that spits out food and drinks," he says. For example, the machine shares virtual inventory information in real time, allowing operators to determine when to restock without wasting a trip. Customers don't need change either. The machines accept cash, credit and debit cards, and Apple Pay and Google Pay. Naturals2Go machines even feature video screens for potential advertising. Having his own business has given Copeland the flexibility to spend more time with his family. "In a storefront business, you have to be there," he says. "This business is good in terms of not tying you down to one place."
Copeland's wife, Franchell, partnered with him in making the business a success, and even their 15-year-old daughter is participating in the family business. "She's a good focus group to have an ear to the market," he says. Copeland currently operates 15 units throughout metro Atlanta, three of the units added just since March. Needless to say, his rapidly-growing business is his sole professional focus. "Ten or more machines is a full time job," he says. Not that he's complaining… "Being your own boss is a good stress." For more information, visit www.naturals2go.com.
What we like about this business
• Financial freedom and flexible schedule
• Great support and training
• Not having to manage account receivables
• Long-term wealth generation for our family
• Use of cutting-edge technology
• We feel good about providing healthy snack alternatives