About Us
Zoup! is the leading soup-differentiated fast-casual restaurant franchise that is defining the category with its wide variety of premium soups. Each location offers 12 hand-crafted recipes each day with "Something for Everyone" nutritional options, including low-fat, vegetarian, dairy-free and gluten-free. Zoup! also offers made-to-order GreenZ! Salads, SandwichZ!, TryTwo! Combos, baked desserts and beverages.

The Zoup! concept consistently receives accolades from local and national media and organizations, including: a #57 ranking on 2017 "Top 100 Movers & Shakers" by Fast-Casual Magazine, INC magazine's 2017 "Franchise 500," HOUR Detroit Magazine's "Best Soup" and Nation's Restaurant News "Hot Concepts!" And, in Franchise Business Review's independent survey of our own franchisees, we earn high marks in the key areas of financial opportunity, training and support, leadership, operations and product development, and core values.


Ideal Candidate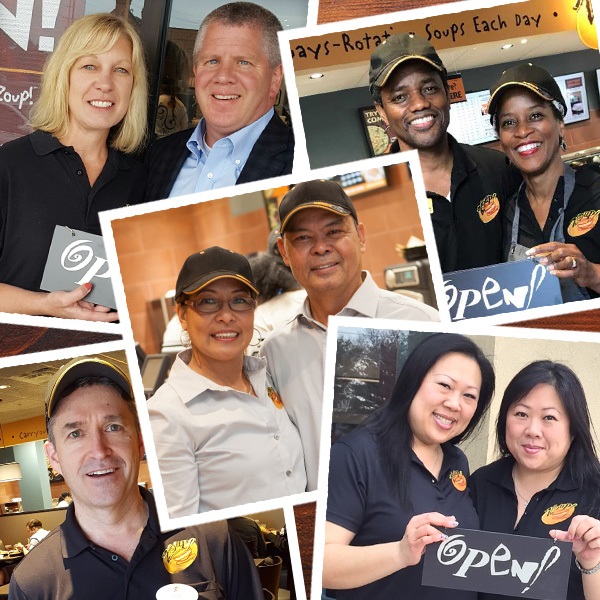 Zoup! is a great franchise opportunity for someone who enjoys working with people, is very organized, works well with systems and is computer savvy. Management experience is a must for motivating a team of 12 part-time employees.
Why Zoup!
Why Choose Zoup!
As the leading soup-differentiated fast-casual restaurant franchise, Zoup! has strong niche positioning and the proven ability to get ahead of consumer preferences for fast, fresh and healthy dining. Our franchisees enter the marketplace with a unique offering and do not have to compete against players in the pizza, sub, burger, etc. categories for real estate or customers.
Franchisees Benefit from a Strong Brand in a Growing Segment
With the same "Everything Matters" philosophy that ensures quality, satisfaction and convenience for our customers, Zoup! has created the infrastructure, systems, and support programs that give franchisees the tools they need to build their own successful businesses. In addition to the opportunity to own a one-of-a-kind, exciting business that has a proven record of success, Zoup! franchisees enjoy the following benefits:
Leader in niche category
"Lifestyle hours" of operation
Simplified menu items require little prep and no cooking, which allows for a "front of house" focus
No sales ramp up or accounts receivable
An authentic, strategic and transferable culture
Single-unit, multi-unit or semi-absentee option for greater financial flexibility and security
Testimonials
"We were incredibly pleased with the support from Zoup!'s corporate team. They were with us every step of the way—from finding the perfect real estate and analyzing the community's demographics to assessing the nearby competition and building a local marketing plan," Crnokrak said. "This was the first time we've owned a business, and having someone helping us along the way assured us that we had made the right decision."
Steve and Diane Crnokrak, Husband/Wife Franchise Owners

"Like Zoup!'s creators, I've always felt that really good soup is hard to find. When I saw how successfully they had tapped into that market niche, I knew they were on to something," says Hopkins. "And, I knew I wanted to be part of it."
-Colleen Hopkins, Zoup! Multi-unit Owner
"As exciting as it is to watch the business grow, I also take a lot of pride in creating a great environment where staff members and customers feel appreciated and happy."
- Paul Diaz, Zoup! Multi-unit Owner