United Real Estate Franchisor Profile

Become a Part of the Story
United® Real Estate is changing the real estate industry.
Our model is considered the most disruptive real estate model in over 30 years:
No royalty fees
No monthly minimum fees
No traditional advertising fees
Exclusive territory approach
As we enter new markets, our disruptive model has outpaced the leading national real estate companies in the number of total agents gained and number of transactions closed.
A Closer Look at United Real Estate
United Real Estate
– a division of the United Real Estate Group – was founded with the purpose of offering solutions to the challenges facing agents in the residential real estate brokerage industry. Providing the latest training, marketing and technology tools to both agents and brokers under a 100-percent commission strategy, United Real Estate makes it more profitable for an agent to sell real estate and for real estate brokers to leverage a complete system to better grow a successful, thriving real estate brokerage.
Named as a "frontrunner" in the real estate industry in the 2013, "part of the next generation of real estate brokers" in 2014, as well as being listed in the "Power 200 Most Influential" in 2015 and 2016 by the Stefan Swanepoel TRENDS Report, United Real Estate has more than 40 offices and over 2,700 agents. Through a worldwide franchise solution, United continues to rapidly expand.
Driven by an unwavering commitment to giving back, a pillar of United's core values and guiding principles, United Real Estate is proud to support and partner with Autism Speaks, the world's leading autism science and advocacy organization, as United's charity of choice.
Learn how the United model allows agents and brokers to become more profitable while benefitting from a comprehensive suite of training, technology, support and marketing.
Do you already operate a successful brokerage or are you a high performing agent that wants to take your business to the next level?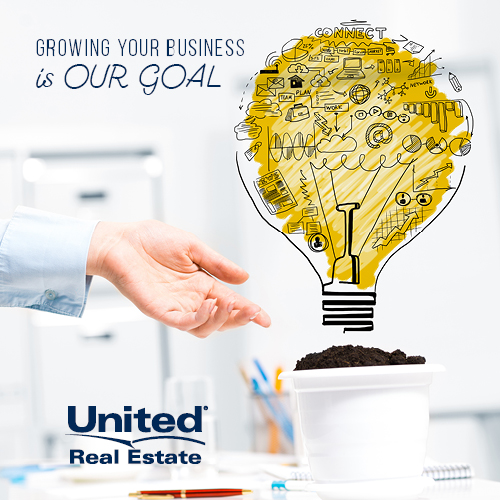 United Real Estate's model addresses the pain points that exist between agents and brokers in most real estate companies today. The constant struggle for you, the broker, is trying to grow your real estate brokerage and keep the agents you depend on for growth content.

United Real Estate's unique business model provides a clear path for you and your agents to grow in tandem while doing so in a predictable and established framework.

If you have an existing real estate business either individually or as a brokerage please contact us today to determine if you qualify for franchise ownership in our protected available territories.
We are passionate about helping agents achieve personal and financial freedom in their real estate careers.

Our mission is to provide the latest training, marketing and technology tools to both agents and brokers all under a 100% commission strategy that makes it profitable for an agent to sell more real estate and for brokers to own a profitable real estate company.

Why Our Offices Love United!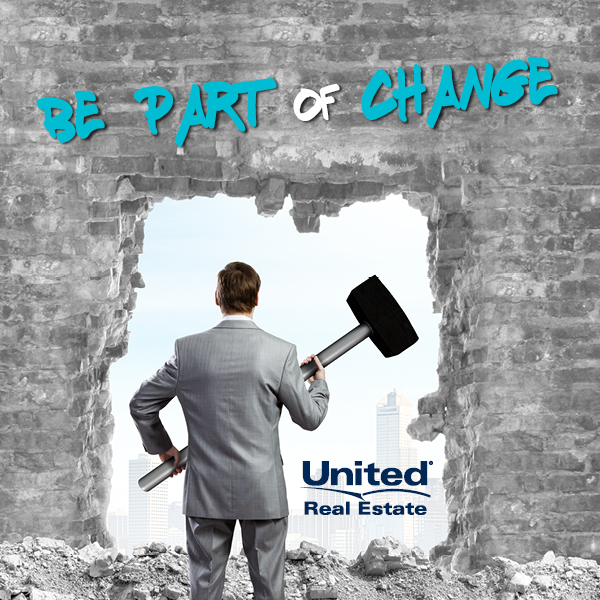 "For more than ten years, Chris and I managed a respected local company of 70 agents serving the Indianapolis area market. We were Indy's premier 100% commission brokerage, but growing that company presented challenges. We certainly didn't have the tools and services that agents have grown to expect from their brokerage.

Luckily, we found the perfect partnership with United Real Estate. It was clear from the outset that United Real Estate provided our agents with technology, training, and marketing second to none. What we didn't realize when we partnered was the tremendous support platform United gives us as brokers, owners, and agents. In fact, I would describe it as a culture of care and support that permeates from the very top, through management, agents in the field, and ultimately to the consumer. The support is so good it makes you want to "pay it forward"!

Ultimately, the real estate business is not about technology, training, or marketing. It's a service industry. It's about giving managing brokers, agents, and the consumer the best service possible. To me, this is what they mean when they talk about United Real Estate being "THE MODEL OF THE FUTURE." - Paul Scherrer, Owner/Broker – United Real Estate - Indianapolis

"As an independent broker, I struggled to find the technology I needed. It was always piecemeal, and always an expensive struggle. United's technology suite changed all of that. Now I'm finally providing my agents with an integrated system that incorporates the best agent-website and portaling tools I've ever used, together with a world class CRM. The ease of use and national support have made our adoption rate near 100%. And I can tell you, that's a rare and wonderful thing.

United's paperless transaction system is great for me, reducing my review and compliance time to allow me to focus on building my business. And my agents love it too.

Technology is an ever-moving target. As an independent, I had virtually no chance of keeping up. Now that I'm a United franchise, I no longer worry about the technology solutions I can offer my agents. The technology team are committed to developing innovative tools that we've been able to integrate easily into our office.

In a former life I developed some of the first CRM systems in a different vertical market. Believe me when I tell you, I'm a CRM snob, definitely hard to please. United's Peak Performance CRM is fully featured, and has several innovations that I thought I would never find. Maybe best of all is that I've been able to partner with United to train my agents. So it's not just about saying we have a CRM…it's about actually having agents who are using the CRM on a daily basis to improve their business." - Byron Short, Owner/Broker - United Real Estate - Scottsdale

"Over the past three years, I had been searching for a solution to the challenges our associates face daily in our market. Keeping up with the latest technologies and the support needed when implementing them was the biggest challenge. United Real Estate was the only choice that could offer a technology platform that realized those needs with the support to back it and most importantly, staying true to our 100% commission structure. With this cutting-edge technology and the backing of United Real Estate, we know our mentors and trainers can help agents work more efficiently and become more successful. Our team is very excited about having access to the technology and marketing solutions offered by United Real Estate and our agents know they now have a competitive advantage in the market." - Elizabeth Diaz de Villegas, Owner/Broker - United Real Estate - Miami

"I have always believed the use of technology is the key to providing families that serve our community the ultimate gift of time. We can decide when, where and how we work and do business. With this freedom, we can all pursue our happiness for decades to come. It is a very liberating agent-centric concept and the key to prosperity and success for everyone. The time has come for all real estate professionals to embrace the "Freedom Model".

As a long-time real estate developer, Realtor and business owner, I am ecstatic be a part of United Real Estate's franchise network. It is refreshing to have a company so committed to growth at every level while still adhering to its core values. I have no doubt that United's "Freedom Model" will spread rapidly through the United States and beyond. In our own market in Los Angeles, we can already see the positive impact of this new real estate model with our own agents achieving great success. With our 90-year old history, superior technology and expansive network, United Real Estate provides the best of all worlds." - Annie Chen, Owner/Broker – United Real Estate - Los Angeles

"United Real Estate's model was designed to correct the problem with traditional real estate." - Bonnie Mays, Owner/Broker – United Real Estate - Louisville

"I have been a real estate broker since 2005. I was running my own small brokerage with five agents and I found it extremely difficult to grow because I could not compete with the large brokerages that dominated my market.
We did not have the technology, the education or the processes that we needed in order to grow in agent count. I interviewed several other "big brokers" but when I saw their list of monthly fees that my agents would have to pay, I just could not get onboard. Then we heard about United Real Estate and their 100% Freedom Model that provided technology and world-class training while still paying agents 100% of their commission.

Right away I knew I needed to join United Real Estate. I now have the support staff of the home office that my agents and I can call when we have questions that I never had before. I was taught how to systematize my recruiting efforts and we grew from 5 to 50 agents in our first year.

The rapid growth has only been possible thanks to being a part of something much larger than myself. The "business in a box" that United Real Estate offers truly allowed me to be the fastest growing company in Kansas City and a business that I am so proud to be a part of. We are changing real estate and giving the incumbent brokers something to compete with." - Marta Grace, Owner/Broker – United Real Estate - Kansas City