Tropical Smoothie Cafe Franchisor Profile
About Us
At a time when there's more focus than ever on healthier food options and active lifestyles, Tropical Smoothie Cafe is perfectly positioned to become #1 in our category. Maybe that's why we're opening a new Cafe every week and experiencing double digit sales growth in this $1.1 billion industry.**
Our quick-casual concept is something you and your family can be proud to own, as you provide healthier options for people in your community. You can feel good about serving our great-tasting and innovative smoothies, sandwiches, flatbreads, wraps, and salads.
What really distinguishes Tropical Smoothie Cafe from the competition is our balanced mix of food and smoothies, which allows you to capitalize on multiple dayparts: breakfast, lunch, dinner, dessert, snacks, and catering. This helps drive average ticket sales over $8 and allows us to drive higher gross sales.
So perhaps it is no surprise that in 2015, the top 50% of our franchisees had average gross sales of $806,920.*
It's all part of our commitment to help set up our Franchise Owners for success:
We continue to innovate, seeking out ways to hold down costs without sacrificing quality.
We leverage a full spectrum of marketing tools to drive awareness, excitement, trial, and loyalty for the brand.
Our Tropical Rewards app allows for one-touch mobile payments, digital ordering, and loyalty program access. It's just one of the many ways we strive to strengthen the exceptional Tropical Smoothie Cafe experience to keep customers coming back for more!
We have online tools in place to help Franchise Owners monitor their food costs, labor costs, and customer relations remotely.
And most importantly, we play to win.
**Nation's Restaurant News, 2013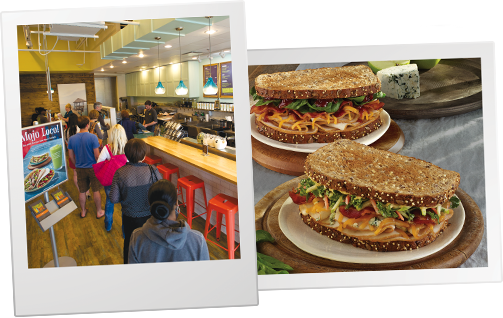 Ideal Candidate
Yes, we are looking for people who understand and love the restaurant business. But equally as important, we want our Franchise Owners to understand the importance of peerless customer service and community outreach. We value innovation, creativity, and a competitive mindset. We play to win, and we have fun doing it.
Qualified candidates should have:
Business experience (restaurant experience preferred)
$125,000 in liquid assets and a minimum net worth of $350,000
Day in the Life
A Tropical Smoothie Café franchisee starts their day early in the morning preparing the café for all that goes into serving great tasting food and smoothies with a tropical twist. They work alongside their crew to prepare all of the fresh ingredients that go into our better-for-you products. Once open for business, the franchisee works alongside their team to display unparalleled hospitality and showcasing the Tropitude that keeps our guests coming back time and time again. Once all the prep work is complete, most franchisees venture outside the 4 walls of their café to focus on building solid relationships within the community through catering and local store marketing opportunities. It's then back to the café to prepare for the second half of the day. The focus during this time is on training and crew member development to continuously improve on their service, hospitality and operational knowledge. When the day comes to an end, franchisees will home, always keeping an eye out for their next cafe location.
Testimonials
"I wanted a new business opportunity that I would be proud to bring to my community. With Tropical Smoothie Cafe, I know I am providing delicious food to my customers. I feel great bringing my daughter into my Cafe for a healthy smoothie."

– Glen Johnson, Little Rock, AR

"They provide innovative systems, easy-to-duplicate operations, and smart strategies for building a great team. If you take advantage of all the company offers, success becomes very achievable"

-Nick Crouch, Jacksonville, FL (Commenting about the model Tropical Smoothie has made for its franchisees)

"I think our Cafes speak to the values that our customers hold. They want fresh, healthy food that tastes great and is good for you..With our online ordering app we can get people in and out quicker and serve more customers even faster. When the experience is better, people want to come back more often. As an owner, it is easy to see the benefits technology brings to the bottom line."

Mike Philip, Springdale, AR