PuroClean Franchisor Profile
About PuroClean
Are you starting to imagine yourself in this career with unlimited potential for personal, professional and financial growth, and the ability to make a difference in people's lives? Every day, there are more than 50,000 water damage property losses and $21.6 million lost to fire damage in the United States.
Property damage occurs daily in every city across the country. Property owners file claims with their insurance companies, who then refer and pay a professional property restoration company – such as PuroClean – to restore and clean up the damage which is constant and unaffected by economic swings, such as interest rates, and real estate, job market or stock market fluctuations. As a PuroClean franchise owner, you can enjoy extremely attractive profit margins while finding a sense of satisfaction as you serve your community and help property owners in their time of need.
Known as the "Paramedics of Property Damage®," PuroClean provides water damage restoration, fire and smoke damage remediation, mold removal, and biohazard cleanup to commercial and residential customers. Founded in 2001, PuroClean has a comprehensive network of more than 300 franchise offices across North America.
Having diverse revenue opportunities help PuroClean franchise owners grow their business, while also presenting an opportunity to help property owners during these unfortunate times. Franchise owners build teams of technicians to serve their community while they enjoy a lifestyle they've always dreamed up in their own community.
What Makes PuroClean Franchise Virtually Recession-Proof
$210+ Billion Property & Casualty Insurance Claims Annually
Very High Margins with Third-Party Payments
National Account Work with Top Insurance Carriers
Financing Available for Over 50% of Total Investment
Executive Enterprise Building
You Don't Just Buy a Job, You Can Build an Empire
$1.5 Million, State-of-the-Art Training Facility Comprehensive Three-Week Training Course
How PuroClean Supports Veteran Entrepreneurs
Named one of the top franchises for veterans by Military Times and Entrepreneur, PuroClean believes that veterans possess qualities and values that make for great PuroClean franchise owners. Our PuroVet program provides access to resources and extensive savings to give back to those who have served our country.

Through PuroVet, veterans of the U.S. Armed Forces save 25% off franchise fees for new franchise owners. In addition to the substantial savings on franchise fees, veterans benefit from savings, discounts and access to special financing from suppliers. This includes savings of 15% off on all orders from BuildASign, our award-winning online custom printing provider of signage and vehicle graphics, 10% off orders from Allegra Printing, one of our print partners, and additional PuroVet discounts we work to secure every day.
PuroClean also prides itself on having high-level leadership with a military background. President Steve White is an Army veteran and member of the IFA's VetFran committee. He is community-minded, fiercely determined, and passionate about improving the lives of others.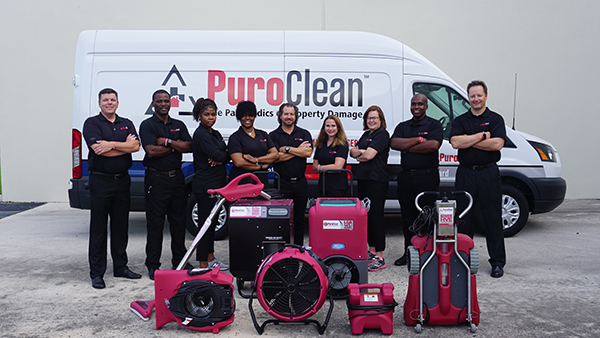 Ideal Candidate
PuroClean is seeking qualified candidates from various backgrounds to continue our restoration franchise expansion. The perfect PuroClean candidate is motivated to develop a dependable business that supports and serves its community while providing an opportunity to accelerate their entrepreneurial spirit towards a secure future.
Does this sound like you?
Whether you have previous experience in the restoration industry or a background in insurance, construction, remodeling, home inspection, property management, plumbing, or a franchise owner looking to diversify your portfolio – PuroClean can help you become the hero your community needs in a business opportunity you deserve!
Potential candidates are often white-collar professionals, military veterans, first responders, firefighters and more. No matter your background PuroClean can provide the expert training and support to assist you in becoming a franchise owner.
PuroClean franchise owners possess an array of experience, but our ideal candidates tend to have similar traits and characteristics, including:
Entrepreneurial spirit and self-starter
Sales and marketing background with a history of financial success
Customer service oriented
Able to follow a proven system and manage a team
Financially qualified (credit scores, franchise fees, living expenses)
Desire to give back to the community with compassion and empathy
Seeking financial security
Day in the Life
When you own a PuroClean franchise, you are the master of your destiny. You are free to direct the success of your business using the standards, policies, and procedures we put in place to help you grow your company. We teach and support you as a franchise owner throughout the process, so you don't have to figure out on your own how to perform the services – from marketing to account – that are necessary for your business.

Not only will you receive state-of-the-art training when you begin your PuroClean ownership journey, you will also have support and training throughout your PuroClean career. The entire PuroClean Home Office staff, as well as a dedicated regional director, will help you create and build a successful business.

You might think your voice will get buried in a sea of owners, but our open lines of communication and dedication to the health of the network as a whole makes it easy to communicate when you wish to connect on a topic with Home Office or fellow franchise owners.
PuroClean also supports a National Leadership Council that receives a seat at our table in South Florida twice a year to present the concerns of the network to the PuroClean executive team. This two way street of communication as been very effective at spurring changes that benefit the network as a whole and introducing new objectives.

Franchise Owner Testimonials
"Anyone who is considering a business in PuroClean I think the timing is right. We are so well-positioned right now for growth. It's a lot of work, it's a lot of hard work and it doesn't happen overnight but if you follow the plan, PuroClean provides a great marketing and sales plan and that's really what it's all about. They have good support at the corporate level as well as the support among the network. I truly believe that there are no better business owners out there than those that are here at the PuroClean network."
Becky Edgren, Dayton, OH
"You have your own business but at the same time you have the support of lots of very talented people with the resources backing you up and you can never have that on your own."
Diego Melians II, Miami Lakes, FL
"The franchise model is great for me because you get all this support that you don't have being one person, a new owner, starting a new business, in most cases you're on your own. Without the franchise and the backing of them and all the marketing and the buying power of buying into a franchise […] you're getting better pricing and you're getting all the support that you can call anyone in the franchise network. That's why I love PuroClean because the other owners are so willing to help you. The Home Office is really trying to help all of their owners succeed and it's important to them to see everyone be profitable. There is no way I could of ever done this on my own."
Tim Kreczmer, Lake in the Hills, IL
"[Most important] is the freedom and the flexibility you have to control how you want to run your business, how you want to grow, how you want to schedule your time. After owning my own business I could never see myself working for someone else."
Rick Gutridge, Columbus, OH