Kitchen Tune-Up Franchisor Profile

Kitchen Tune-Up Franchise System ~ Remodeling your expectations.
Kitchen Tune-Up specializes in affordable kitchen and updates for residential and commercial enterprises. We are known for our signature one-day wood restoration Tune-Up, cabinet refacing, cabinet redooring, new cabinets, Granite Tune-Up and storage solutions. Our standout remodeling concept offers personalized service and incredible results that are structured around customer service Trustpoints to ensure a hassle-free experience from start to finish.
"Remodeling Your Expectations" is both the slogan and the mission guiding each project through completion for a truly transformational customer experience.
Franchisees within the Kitchen Tune-Up system receive comprehensive training with ongoing sales and business coaching. They also benefit from the knowledge and experience shared between owners – the domino effect of the expertise is invaluable.
History:
Our founder, Dave Haglund, began a cabinet distributorship in 1975 and found his niche market while visiting a customer's home in 1986. Noticing that the 6-year-old kitchen was starting to look a little run-down, but wasn't ready to be remodeled, he offered to touch up some of the worn areas. When the customer was thrilled with the results, Haglund realized the market potential of this concept. After years of testing and perfecting his process of restoring interior wood surfaces, Haglund sold his first franchise in 1988. Over the years, and with the help of many talented franchise owners, the Kitchen Tune-Up system expanded to include cabinet refacing, redooring, custom cabinets, storage solutions and more. There are now Kitchen Tune-Up franchises throughout North America. Both home-based and retail franchises are available.
Several members of the Haglund family have been involved in the family business including Dave's oldest daughter, Heidi Morrissey. Heidi has served as vice president of sales & marketing since 2003. She was announced as the new president of the Kitchen Tune-Up franchise system in January 2017. Heidi oversees franchise training and serves as an effective sales and business coach for our franchise partners.
How is the Training Structured?
You'll receive a comprehensive training in 3 phases.
Online Pre-Training – You will become familiar with the Kitchen Tune-Up concept well before arriving at training school. Our online Pre-Training will help you to establish your business and to arrive prepared for training school. Pre-training consists of reading manuals, taking quizzes, viewing videos and establishing your new franchise.
Five day Classroom and Practical Training – Arrive at the Kitchen Tune-Up home office in Aberdeen, South Dakota where our professional trainers will teach you how to: market, sell, tune-up, redoor, reface, and so much more.
Twelve Week Action Plan – In the 12 weeks following training school you'll attend scheduled webinars and weekly online training modules to reinforce and supplement the overall training program.
Join Our Franchise Family
Ideal franchise candidates are creative self-starters who appreciate the system Kitchen Tune-Up has designed and evolved during the past 30 years. No remodeling or construction experience is needed. Kitchen Tune-Up franchisees primarily manage their small employee base with minimal overhead, and consistently oversee effective sales and marketing programs.
A Day in the Life of our Franchisees
Every day is different when you own a Kitchen Tune-Up Franchise. What are your specialties? What would you enjoy doing? You pick the hats you want to wear and we help you figure out the rest. Some owners focus on project management, some do sales and some truly manage the business.

What will your day be like?


Franchisee Testimonials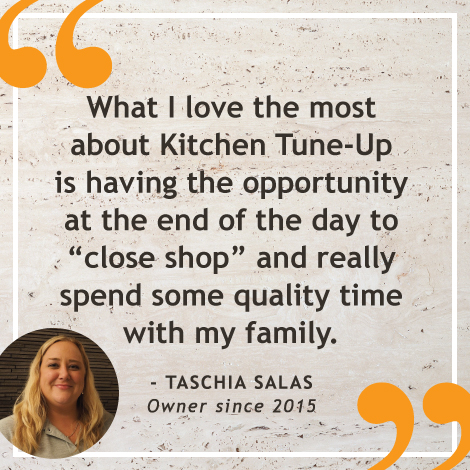 "From the moment we first spoke with the Home Office team, we knew Kitchen Tune-Up was the place we wanted to be. The support and encouragement they provide is unrivaled. They truly are like family and genuinely want to help you grow and succeed! We are thrilled to be a part of this family and can't wait to contribute to the growth of the Kitchen Tune-Up system!"
Ryan & Michelle Thompson - Knoxville, TN

"We were both looking for changes in our careers and Kitchen Tune-Up fit into an area of interest for us, it was something we knew we would enjoy. The overall products and services were a fit for our market. In addition, KTU had a long history of national success that impressed us."
Susan & Charlie Johnson - Little Rock, AR

"For a number of years, I had been looking for an opportunity to own and operate my own business. Pam and I really wanted to build a business around our family life in our community. Kitchen Tune-Up is a perfect fit."
Brad & Pam Fiechtner - Aberdeen, SD

"As a new franchise owner, I can say that the support provided by the Kitchen Tune-Up Home Office team has been amazing in helping me to learn everything I need to launch and to maintain a successful business. Their attention to all aspects of the business and delivering quality projects to our clients is and will always be an integral component of my success."
Jeff Toren - Main Line, PA