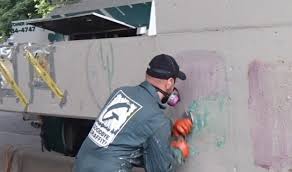 Great work, no hassle. I had a brick wall that got hit with two large tags and they made it look as good as new. The price they quoted me was less than I expected, too.
YELP

There is absolutely nothing but good things I have to say about this organization and those who comprise it.
YELP

"Our Custodial and Maintenance staff cannot effectively remove all of the graffiti with the products available to them. Goodbye Graffiti has undertaken the massive project of removing the graffiti on the majority of our buildings and has been able to remove the graffiti completely."
Jeffery Watts, Facilities Director of Planning & Operations, Campus Services
Seattle Central Community College

"We are very happy to have discovered Goodbye Graffiti and to have implemented their Ever-Clean it has made a big difference in the overall appearance of our shopping center and we believe has actually reduced the recurrence of graffiti tags."
Teresa E. Sante, Property Administrator
CB Richard Ellis, Inc.