Goodbye Graffiti Franchisor Profile
Goodbye Graffiti, Hello Entrepreneurship
GRAFFITI IS A GENERATIONAL ISSUE THAT WILL NEVER GO AWAY. Over $10 Billion is spent annually to eliminate it. (Source: Maia Research Analysis).
There are few companies that can remove graffiti completely without damage to property or a negative impact on the environment. In fact, there are few companies who remove graffiti at all.
Goodbye Graffiti, Inc. is a 22-year old graffiti removal franchise located in Canada. Goodbye Graffiti USA is launching in the US and is looking for entrepreneurs to be the first US franchisees. We have a proven history of success and are the first national graffiti removal franchise ever!
We are a Business 2 Business model so you will not have to stock inventory or open a retail store. You can even launch your business at home.
BUILD A RECURRING INCOME BUSINESS!
Recurring income
Low investment
Start your business at home
Access to proprietary products and systems
Over 200 hours of training
Business to business, no retail
Help improve your community
You will have over 20 years of experience behind you with our systems, programs, training, product line, apps and support
With a generous territory, you may be the only Goodbye Graffiti operation in your city
Recession resistant business model

Our Ideal Candidate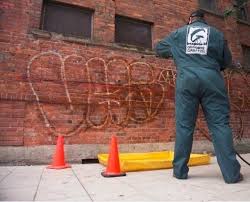 Community-minded individuals looking to make a difference.
Our ideal candidate will see this opportunity even though it's a new concept in the US. Have you ever seen something new out there and think "It will never be successful"? Then when it is, how many times do you kick yourself for not getting in at the beginning? This is one of those somethings.
Besides seeing this as a magnificent opportunity, we are looking for people who are good communicators and are able to delegate. When you grow you will not be able to do everything yourself. You will have to be able to adapt, moving from the operator to the manager and so on.
Everywhere you look there are opportunities for our services. If you can see this, we want to talk to you.
Laurie Spivack, President
Listen to Laurie's full podcast with Franchise Rising:
Goodbye Graffiti, Hello Entrepreneurship
feat. Laurie Spivack
A Day in the Life
Goodbye Graffiti USA will help you jump start your business with Initiation Launch, a marketing program geared to introduce you to your local market, so you can begin building those long-term relationships that are invaluable in this type of business.

Clients you will service are commercial businesses, including property managers, property owners and facilities personnel. You will also work with government entities.

You will work with community leaders and stakeholders to help improve the quality of life in your community. Other franchisees have found this very rewarding for being recognized as a contributor and an expert.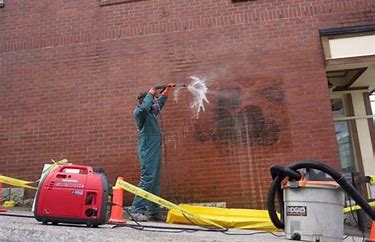 Community Feedback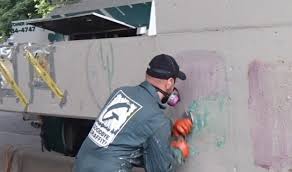 Great work, no hassle. I had a brick wall that got hit with two large tags and they made it look as good as new. The price they quoted me was less than I expected, too.
YELP

There is absolutely nothing but good things I have to say about this organization and those who comprise it.
YELP

"Our Custodial and Maintenance staff cannot effectively remove all of the graffiti with the products available to them. Goodbye Graffiti has undertaken the massive project of removing the graffiti on the majority of our buildings and has been able to remove the graffiti completely."
Jeffery Watts, Facilities Director of Planning & Operations, Campus Services
Seattle Central Community College

"We are very happy to have discovered Goodbye Graffiti and to have implemented their Ever-Clean it has made a big difference in the overall appearance of our shopping center and we believe has actually reduced the recurrence of graffiti tags."
Teresa E. Sante, Property Administrator
CB Richard Ellis, Inc.