Fit 36 Franchisor Profile
Discover the Future of Fitness with FIT36®
FIT36® offers the next level in fitness, efficiency, and community. Whether life leads to strenuous outdoor activities or to move with quick response in a game of chase with your kids, our high-intensity circuits prepare you to live life better – without hesitation. Each workout consists of 12 stations of functional, full body exercises using a High Intensity Interval Training (HIIT) approach and the science of MRT (Metabolic Residence Training). The Intense cardio and plateau crashing microcycles are proven to build lean muscle and torch fat.
Functional HIIT training is an enhanced training technique in which you give all-out effort through quick, intense bursts of exercise, followed by short recovery periods. Each exercise can be modified to ensure members get the best workout to promote safe progression each and every day. And with the high-energy interval workouts, members may burn more calories than they would in a typical hour-long workout - in just 36 minutes! HIIT workouts often deliver an after-burn effect, continuing to burn calories for up to 36 hours after the workout. Clients get focused attention in a group class setting.
LOW-COST, HIGH POTENTIAL FRANCHISE OPPORTUNITY
Recurring revenue business model
Low cost investment
Manager-run ownership
Minimal # of employees (5-7)
Low COGS
Simple build out for faster opening
Not attached to a fitness fad or particular methodology = sustainable fitness
Not reliant on heavy, expensive equipment orcostly retail = functional fitness
SCIENCE-BASED. We employ the science of HIIT and MRT to give clients the most effective workout int he shortest amount of time. It is more than a theory, it's science. And, it is trackable and projected through the FIT36 heart rate monitor system.
EFFECIENCY. Workouts are only 36 minutes. Our clients often burn more calories in our 36-minute workout than they would in a typical hour long workout.
COMMUNITY. Strong community atmosphere in and outside the gym - 24 max class size - Clients get the attention and egnagement they deserve.

WHY FITNESS?
Boutique fitness. Technology. Functional training systems. Per ClubIndustry.com, these are the top three trends moving into 2017. FIT36® checks all three boxes.
The US fitness industry has been experiencing accelerated growth that continues to increase every year.
Gym memberships grew 18.6% between 2008 and 2014, and the trend continued in 2015 and 2016.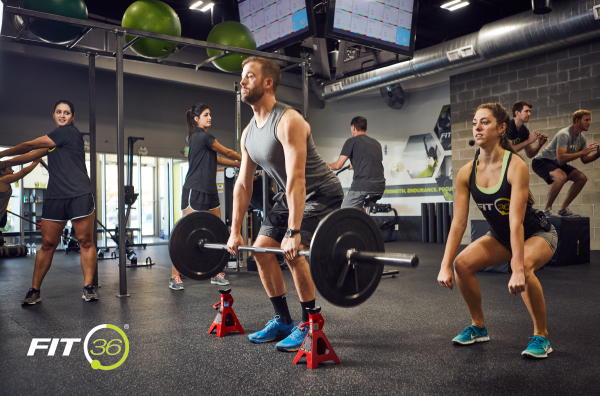 Ideal FIT36® Franchise Owners
FIT36® is seeking passionate, motivated invididuals excited about the booming fitness industry. What we look for:
Have a passion for health and wellness and generally enjoy fitness.
Strong ability to build a positive culture and motivate a manger or team
Someone who is excited to get in on the ground floor of a revolutionary concept
Marketing and/or sales background are a plus not required
Franchise Owner Role
Manger-run Oportunity
A Manager-run owner will have a manager who oversees the day to day operations along with 4 - 5 part-time trainers and 1-2 guest services staff. These part-time employees will work between 20-35 hours per week in the studio. The owner will lead:
Goal setting and alignment on established business goals
Strategic planning along with Wellbiz Support Team (marketing and operations)
Management meetings
Setting a positive culture in the studio and motivating the team
Focus on growing the studio
What our Franchise Owners Say
"I looked at buying the leading competitor franchise, and they were locked up with no opportunities. Being a member of this competitor...I was paying a fair amount of money to work out on a treadmill and as a consumer, that is not
what I was looking for. Enabling each individual to be able to push themselves as hard as they want, but still being a team environment makes a huge difference to each member." --- Steve Cronin, Former MLS
"FIT36 is a better business model for me than the competition because the startup costs are lower than the other companies I investigated. It's more of a long-term model, and it's highly adaptable to the market." --- Abe Dispennette, Navy Veteran
FIT36® franchise owner, Sheryl Langley was tired of making other people successful in their own businesses and knew it was time to do the same for herself! As a fitness enthusiast, the motivating, personalized, group atmosphere is what drew Sheryl to FIT36®. While she has a manager in place to run the daily operations of her studio, she loves spending time in the community, spreading the word of FIT36®. Hear more of Sheryl's story
HERE
.
FIT36® franchise owner Lisa Petersen knows firsthand about the support provided by FIT36®. For more than eight years, Lisa Petersen has owned two franchise locations with another brand supported by the FIT36® management team: Fitness Together®. In Lisa's words, "I've been in the organization since 2008; if the support weren't great, I wouldn't have purchased a second and third franchise!" But, what is Lisa's favorite part about being a FIT36® franchise owner? "It's FUN!," says Lisa. She loves seeing happy clients and watching people see the results. Take a look at the video
HERE
as Lisa shares her excitement for FIT36®: