FASTSIGNS Franchisor Profile
About FASTSIGNS

They see signs. YOU SEE DOLLAR SIGNS.

Now more than ever, businesses look to FASTSIGNS® for innovative ways to connect with customers in a highly competitive marketplace. Our high standards for quality and customer service have made FASTSIGNS the most recognized brand in the industry, driving significantly more traffic to the web than any other sign company.

We also lead in these important areas:
Entrepreneur magazine #1 in Category: 2017 – 2021; #44 Overall
Franchise Business Review FBR50 Franchisee Satisfaction Award 2006-2021
Franchise Business Review – Best in Category 2018
Franchise Business Review - Top Franchises 2021
Franchise Business Review - Top Franchises for Woman 2021
Forbes - Americas Best Franchise 2019
CFA Franchisees' Choice Designation – 2011-2021
CFA – Awards of Excellence, Silver winner 2021
FASTSIGNS is one of only a handful of franchises approved for $20 million in SBA financing for approved franchise candidates
Strong support drives MORE BUSINESS TO YOUR DOORS.

In an industry that's experiencing unprecedented growth and rapid innovation, you want a leadership team that can provide strong strategic direction. FASTSIGNS excels here, too. We invest in our franchise owners by offering a royalty reduction of 50% in the first year for a faster ramp-up. And you also have the benefit of dedicated support in:
Site selection and build-out
Four weeks of training

1 week in a FASTSIGNS center
2 weeks at our Dallas Headquarters
1 week onsite in your new center

Pre-opening marketing blitz
Grand opening support and guidance
Dedicated Business Consultants
Franchisee Mentor Program
24-hour web-based learning management
Outside sales support
FASTSIGNS creates MORE OPPORTUNITY

As a FASTSIGNS franchise owner, your earnings potential is unlimited. And you'll enjoy owning a business with these compelling features:
Over 735 locations worldwide in 9 countries
Low staffing requirements
Business-to-business hours
Professional business clientele
Attractive margins
Strong brand name recognition
More than 35 years proven history
Highly visible low-cost real estate
$11 Million National Ad Fund
Low inventory
Buying power with key suppliers and vendors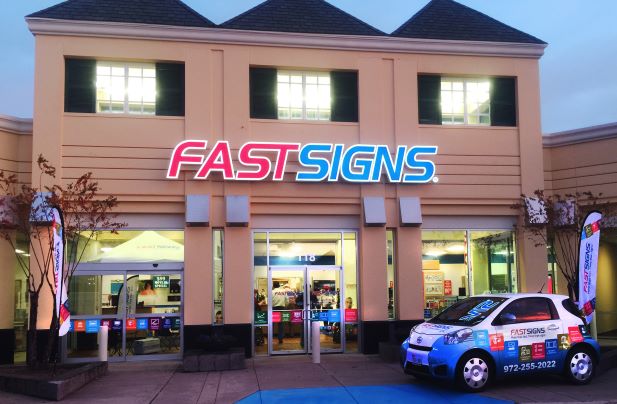 Ideal Candidate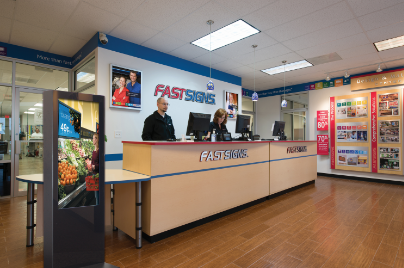 Ideal candidates and existing franchisees come from all walks of life however those with strong senior or executive level experience in Sales, Project Management, Technology, or overall Management ( CEO, CFO, COO) often do best as this business is about managing relationships and people. FASTSIGNS is also a great business for two (Husband/Wife) or other teams. FASTSIGNS is also a great family business; many franchisees engage their children in the business.
Need more convincing?

FASTSIGNS is the only franchisor in our industry to include a full Financial Performance Representation (Item 19) in our Franchise Disclosure Document, including information on our 2019 center average and top quartile Owners Discretionary Profit (ODP):
Top Quartile Owner Discretionary Profit (ODP): 34.5% $1,525,089

Full Service Owners Discretionary Profit (ODP): 21.4% $971,803

Franchisee Testimonials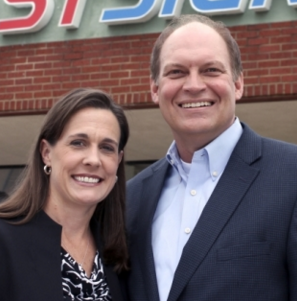 "FASTSIGNS continues to be the perfect business model for us to reach our personal financial goals. With the brand awareness, operational support, and training resources, FASTSIGNS positions us to be the predominant visual communications leader in the market."
MARK & SHAWN GLENN, FASTSIGNS OF DALLAS, TX (MULTIPLE LOCATIONS)

"Choosing to start this business was one of the most important and worthwhile decisions I ever made. I knew I wanted to be with the leader in the field. That was FASTSIGNS in 1995 and it's even truer today. Marketing and technical support second to none, but most of all a team dedicated to my success both today and in the long run. I have never regretted my choice."
PAUL LEBLANC, FASTSIGNS OF VANCOUVER, BC

"Before owning a FASTSIGNS franchise, I was a high school teacher and wanted an independent job. Now, I'm a successful entrepreneur, but I'm not in business by myself. The training and support that I receive from FASTSIGNS is tremendous."
HOWARD JAMES, FASTSIGNS OF WASHINGTON, DC

"The support provided by our franchisor is second to none. We could not do without their expertise in all areas. We are linked by intranet to all other franchise owners and communicate daily. We subcontract work to each other and rely on each other's experience and expertise in areas we are still learning. That is the best part of being part of a franchise."
DONNA BILODEAU, FASTSIGNS OF WINDSOR, ON