Deka Lash Franchisor Profile
Why Deka Lash?
Deka Lash brings an elegant, high-end business model with a modular design that is easy to scale. The beauty industry has and always be be recession-resistant. It is here to stay! Lash extensions are an alternative to mascara, much healthier for the eye, a time-saver and has quickly become a staple in the beauty regimen for women of all ages, ethnicities and economic statuses!
The eyelash industry is exploding. Eyelash extensions are the fastest-growing segment of an 84 billion dollar beauty industry and are disrupting the beauty industry. Lashes are a lifestyle, an addiction, long, long past being a fad. Lash franchises are taking business away from other elective beauty services and are becoming an affordable luxury through the Deka Lash studios.
Recurring, Predictable Revenue, Membership Program
Receptionless, Corporate Answers All Calls, Books all Appointments
TrueXpress - product and process that doubles revenues
'Gold Standard" in industry - products, training and support
Lowest Startup Costs in Category ($250- $290K all-in)
Small Footprint (1000-1500 sq. ft.), Max. Use of Space
Deka Leadership Owns Units
We Get Units OPEN
High ROI ($113K+ avg. EBITDA)
Exceptional Validation
291+ Units Awarded
91+ Studios Open
Who buys a Deka Lash franchise?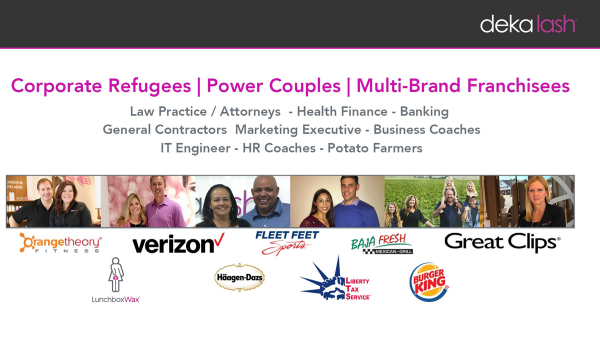 No beauty experience required! Corporate Refugees, Power Couples and Multi-Brand Franchisees who want to build wealth and diversify portfolios with an 'earned' semi-absentee concept are purchasing Deka Lash franchises. This includes Individuals who are feeling a lack of job security and want to take control of their futures. This includes family-oriented parents who want to enjoy flexibiility to attend their child's sports events and fit their work schedule into what works best for them, not an employer. We have advocates for women's empowerment (this includes men AND women!) – wanting to change the lives of women by providing sustainable, successful career paths for their Lash Artists, and by building confidence in ALL women who walk out of the studios feeling beautiful, empowered and more confident. This is a happy business filled with smiles.
A Day in the Life of a Deka Lash Studio Owner
This is a simple business. We have owners that are acting as owner-operators, actually managing the studio/s. We also have owners that are semi-passive and have managers in their studio/s. Those managers are Lash Artists who we have trained for the position, but are still lashing 70% ofthe time.
Good Morning!
7:30 a.m. - Pour a copy of coffee and login to your Deka Drive to see all of the operations of your studios
10:00 a.m. - "Manage he Manager" check-in with your studio director and go over KPIs
12:00 p.m. - Lunch break! Stop and get your lashes filled before stepping out for lunch.
2:00 p.m. - Grass roots marketing efforts. Work with your team to connect with the local community!
Good Evening!

Deka Lash Franchise Owners
Most Deka Lash franchise owners have zero experience in the beauty industry, and we can't wait to introduce you to some of them. Many of the leaders in our company are also Deka Lash owners - we like to say we are a franchisor for franchisees. We know exactly what it takes to help owners be successful because are are also Deka Lash owners! Whether you are a Corporate Refugee, a Power Couple, someone who loves and wants to keep their profession but wants to build wealth or a current franchisee who wants to diversify their portfolio we have an owner like you!