Always Best Care Senior Services Franchisor Profile

Always Best Care Franchise Overview
Always Best Care combines Non-medical in-home care and assisted living placement services – and ultimately skilled home care. This creates a competitive advantage in market share growth, profitability and long-term unit value!

Franchisees achieve immediate immersion in their territory as they develop their inventory of the many types of assisted living communities.

Franchisees quickly become a local expert and gain greater credibility with your key referral sources because they already know the market.

Franchisees develop this unique, immediate revenue source to jump start your business and benefit from diversified revenue streams as you grow. Skilled Care/Home Health services are integral to the future of senior care franchising.

Developing the skilled care/home health revenue stream is a key element in the asset build, competitive advantage and exit plan. Equally important is that all major 3rd party sources of revenue (Government, Insurance companies…) are all rapidly migrating to standards for non-skilled care services that will require the same oversight, evidence-based software for standardized service quality and case management that is required for skilled services. Always Best Care has an in-house skilled care services license expert to provide the franchisees with the leadership to make the transition to skilled care and time associated with acquiring licenses for care.

The reality of building a successful skilled care home care business is that it takes time! As our franchisees build their reputation with non-medical in-home care and assisted living placement services, the skilled business will naturally follow. Why spend the significant additional overhead expense of clinical oversight, added licenses, insurances, sales, marketing, training and recruitment before the additional investment is justifiable?
Why Choose Always Best Care?
Additional revenue stream from Assisted Living Placement Services. The advantage to drive immediate and long-term revenue while building local credibility and visibility with all referral sources. This enhanced service for families creates additional revenue from the same referral sources. Fees are paid to our franchisees directly from the assisted living communities. The service is free to the customer. IMPORTANT NOTE: Many families who are home care referrals decide to move into an assisted living community after they go through their assessment with our franchisee. A franchise built around only assisted living sales activities only captures a limited share of market. A critical long-term advantage for Always Best Care!
Protected territories create unlimited opportunities. Always Best Care protects the SOURCE of the customer in each territory. Territory exclusivity is designed to protect the franchisees' marketing efforts and all channels of referrals and revenue inside their defined territory. This unique approach to the business enables our franchises to service customers inside and outside of their defined territory. This simple differentiator with Always Best Care is a HUGE advantage to growing a substantial business. Expand the franchise to provide skilled home care but do it wisely. Providing skilled nursing services to customers and developing the skilled revenue stream is a key competitive advantage to capture greater share of market. When a customer needs skilled care, Always Best Care is one of the few models that captures this business opportunity. Our approach is all about long-term advantages for the franchisee. Always Best Care provides a full-time skilled nursing services license expert to provide the franchisees with the leadership to make the transition to skilled care services.
What's Required for Success?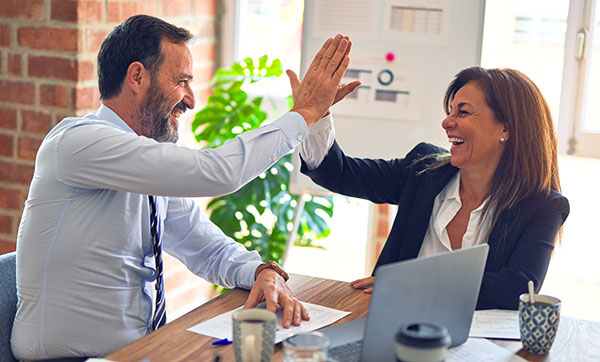 Franchisees are often experts in another field, such as law, human resources, social work or medicine. Strong networking and communication skills are essential for senior care franchisees, who must feel comfortable and confident going out into their communities and working closely with others.
Prospective senior care franchisees will need to have liquid assets of at least $100K and a total net worth of at least $200K.
Those who become franchise owners nearly always fall into one of these categories below:
PASSIONATE SELF-STARTERS
These are business-minded individuals who are attracted to the growth aspect of senior care. They are typically interested in operating a single location that provides income for themselves and/or their families.
MISSION-DRIVEN CAREGIVERS
These individuals are drawn to senior care because it serves a need in their community and helps seniors and their families. Often these individuals have experienced first-hand the importance of finding good care for an elderly loved one.
EMPIRE BUILDERS
These individuals are interested in owning multiple franchise locations that generate substantial revenue. They are typically looking for multi-territory and regional home care franchise opportunities
Always Best Care Business Owners
We think you'll find that Always Best Care franchisees share many traits – often ones that are not present in franchisees of other types of franchise systems. Many of our franchisees have had personal experiences dealing with and caring for older adults, and have first-hand knowledge of the frustrations and difficulties inherent in caring for seniors. If you ask an Always Best Care franchisee what it is about the business that sparks their passion, invariably you'll hear heart-warming stories of how they're making a difference in their communities, about how their careers are no longer just about the money, about how their sense of self-worth and personal satisfaction are enhanced every day because of the services they're providing within their communities.
Successful Always Best Care franchisees indeed become part of their communities. They become the resource for senior care in which others turn to them in their time of need. The depth of feeling this represents cannot be overestimated – it is indeed the essence of an Always Best Care franchisee. It's also a reason that Always Best Care franchisees gladly and passionately put forth the time and effort that goes into building a personal service business. They know that what they do makes a meaningful difference in people's lives. So – if your idea of running a franchise is to open a storefront and wait for customers to find you, then Always Best Care is probably not the right franchise for you.
What our Franchisees are Saying