9Round Franchisor Profile

About Us
9Round is a mid to upper scale fitness center that provides a quality full-body workout with a trainer in a convenient 30-minute circuit format. At the heart of this business opportunity, there are tried and true values and standards that we hold ourselves to every day.
The 9Round Fitness Franchise Opportunity is breaking the mold in the fitness industry. As the fastest-growing kickboxing fitness chain in the world with over 450 locations open, we are dedicated to keeping the business model simple and the cost of entry low.
How do we knock out the competition?
30-Minute Full-Body Kickboxing Themed Workout
No Class Times - Our circuit format allows a new workout session to begin every three minutes.
With nine different stations and a workout that changes daily, members stay engaged which increases our retention rates.
Trainer Included at No Extra Charge
The Right Partner: No Kickboxing experience needed!! We provide you with all the systems and training you need to become successful.
The Right Price: Our average total investment is $85,000, making this one of the most affordable fitness franchises on the market.
Our goal is to let people experience the dream of business ownership with a proven business model and plan of action. As the saying goes, "You're in business for-yourself, but not by-yourself". With a proven business model, a network of dedicated support staff, and hundreds of other franchisees, 9Round owners always have somewhere to turn for support and guidance.
We are in your corner every step of the way, including:
Finding and negotiating a lease
Software and client management
Build-out support
Marketing support
A four-day intensive training at 9Round World Headquarters in Greenville, SC
Operational support for running your club
The support doesn't stop there! After you're open, you'll get:
An in-house franchise coach to assist you with any questions you may have.
Our monthly newsletter to keep you up to date on all the latest and greatest 9Round news and developments.
Top sales are reports, each month, to give you a benchmark on how your club is doing.
Franchise spotlight recordings, each month, so you can learn tips and processes by the top owners in the system.
Monthly and seasonal marketing strategies and promotions for you to use to drive traffic into your club.
Weekly emails with tips about how to promote and run your club successfully.
A yearly convention to keep you up to date on the latest and greatest, provide you networking opportunities, and to teach you new drills and skills.
The Ideal Candidate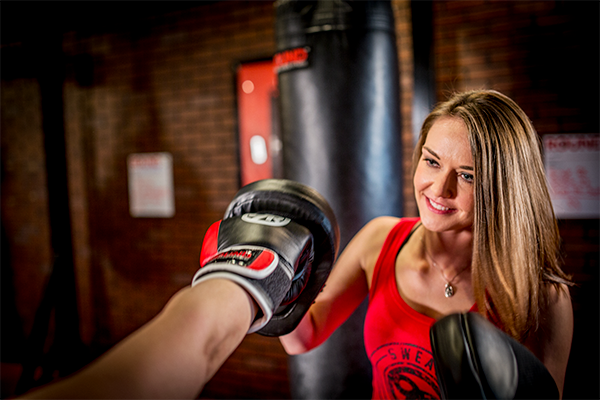 Just as you are looking for the best possible franchise opportunity, 9Round is looking for only the best possible candidates to become excellent 9Round franchisees.
This unique opportunity is based in a highly motivated and evolving industry. For this reason, we look for only the most passionate and goal-driven partners to maintain our solid and reputable brand standards.
Would you say the list below accurately describes you?
Our ideal contenders are:
PASSIONATE ABOUT FITNESS
Passionate about helping others
Outgoing and sociable
Prepared and organized
Capable of being an owner-operator
Able to pass our IST (Initial Strength Test) minimum fitness requirements
As important as your passion for the fitness lifestyle is, we DO NOT expect you to bench press 600 pounds or be a marathon runner. Nor do we require kickboxing, boxing or martial arts experience.
A Day in the Life

At 9Round, our goal is for every franchisee to own multiple locations and enjoy a more abundant lifestyle. The most successful clubs have an owner that is fully vested in the day-to-day operations of the club. Based on your financial ability and business acumen, together we will determine whether starting with one location or multiple locations is the right fit for you.

Scaling Up
In our 9Round Training University, we will teach you how to start with one location and make it wildly successful. You will learn our secret systems and processes including pre-sell marketing, daily workouts, and team training so you can rapidly expand in your community.

Our development schedule is six months per franchise license. This means you will have 180 days from the signing of the franchise agreement to opening the doors of your club. Most franchisees are able to open their doors in four to five months, on average, after signing the agreement. Our goal is, of course, to get your club open as quickly as possible.

Our most successful operators learn to wear all hats. The owner has two to four part-time trainers to assist during busy hours; part-time trainers work between 6-20 hours per week in the club. The owner trains clients, sells memberships, cleans the club, coordinates marketing efforts, facilitates HR, controls team training, updates social media, and maintains the membership software.
See What Our Club Owners Are Saying

"We weren't planning on owning a business. As fitness lovers with small children, my husband and I found it hard to make class times and also be gone for an entire hour. When we discovered 9Round, we knew how much it's structure would benefit us and the many others in our situation. As the first in our area, we wanted to reserve a few other spots that we knew others would eventually take, so we decided early on that we would quit our jobs and make this our only focus. We now have five locations. Being a 9Round franchisee is a fitness lover's dream business. Corporate support has been one of the main keys to our success and we couldn't be happier with where we are now."
- Chris & Melissa M.

"As a trainer of 12 years, I have owned two other gyms and, although my clients had great results from these other gyms, nothing compared to the results my 9Round clients see. After hearing and learning about the 9Round concept, I quickly decided to open a location in Charlotte with a business partner. We have had a steady 500-person membership and, within six months, we had the funds to open our second location. We went on to open our third club completely debt-free. From a business and revenue standpoint, I am more than happy! It is hard work but, as an owner of multiple locations, I know my team is working hard on my behalf to sell memberships and keep my clubs thriving, even when I'm not physically there. The concept is great, the people are great, and I am so glad that I became a 9Round franchisee."
- Maria R.

"Going into college, I knew that the health and fitness industry was where my passion was. Doing a 9 to 5 just wasn't something that ever interested me. As I went through years as a personal trainer, I learned just how hard it was to be successful on your own. During that time, I heard about 9Round and started working there as a trainer. It was instantly a great fit. Soon after, I decided to become a franchisee. I've been with 9Round for over five years now and the support from the Home Office as well as other owners has been phenomenal. The plan is always right there for you and you just have to implement it. Owners communicate daily about the ins and outs of what it takes to be successful. Now, I'm working toward opening my second location and I've never had a regret about joining the 9Round franchise system!"
- Drew S.

"Always having been interested in fitness, I chose to make it my career because I really enjoy helping people. When researching options in the industry, franchising seemed like the right path for me because of the structure and systems provided by franchisors. I knew 9Round was the franchise for me because it's such a unique concept and boxing and kickboxing are classic exercises that have been around for ages. I couldn't be happier with the company and its efficiency. The Home Office feels like family and when I go to the yearly convention with my fellow 9Round franchisees, I'm surrounded by great friends that have the same goals and mindset that I do. I would choose 9Round time and time again, as I continue to do by opening more clubs."
- Corey D.

"Upon investigating multiple fitness opportunities, it became clear to me that there was only one real conduit to deliver my passion: 9Round! I am both blessed and cursed with being an unyielding perfectionist and 9Round met and continues to meet my expectations. My club in Ontario, CA has been open for just over eight months and we have had up to 300 members at one time. As a 9Round owner, I have had the ability to provide our members with a nonjudgmental environment in which they can manage the stresses of everyday life and become better people. Much of my success is owed to the support and guidance of the 9Round Home Office. They set out a simple, step-by-step, comprehensive playbook which ensures success. When locking up my gym at the end of the day, I can't help but smile and think, 'Today, I made a difference!'"
- Janet Lynn M.

"We chose 9Round because we saw an opportunity to get in on the ground floor doing something we are passionate about. Because 9Round had an infrastructure in place to support multi-unit growth, when an opportunity to expand presented itself, we embraced it. We have one of the top clubs in the system with locations in NC and NY. We attribute this success to the combination of our abilities and the support and strength of the 9Round Franchise. 9Round is a fast growing company and we are proud to be a part of it."
- Mark & Suzi B.

"9Round was the one kickboxing fitness franchise that "fit" our family dynamic. We were able to initially run our first location with just one of us in the gym and the other taking care of the needs of our three children. We had no need to hire additional staff until we were cash flow positive and reached a member count that demanded it. This was a huge plus for us and one of the reasons we were initially attracted to 9Round. Because we believed in the concept so much after first doing the workout in Greenville, SC, we signed a 3-pack agreement from the start. If you follow the 9Round methodology and find the right employees, you have a great chance of success."
- Shaun & Tina B.