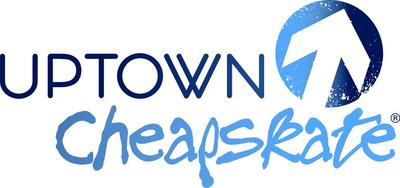 About Uptown Cheapskate
Uptown Cheapskate has a franchise fee of $25,000 with a total initial investment range of $234,500 to $394,000. Uptown Cheapskate offers exclusive territory and a 10-year agreement term. They disclose Sales, COGS and expense data broken into quartiles with an average net income of $ 5,231 of the fourth quartile to $160,239 of the first quartile. Uptown Cheapskate has opened 22 franchisee locations since 2013.
Made The Grade™ Certified
Our Franchise Analysts have professional reviewed this franchise and determined it to be a great investment. As such, we've awarded it our

certification, indicating that Uptown Cheapskate scored in the top 20%! As a
Fashion
franchise in the
Retail Products and Services
sector, this franchise is at the top of its class.
Uptown Cheapskate

Uptown Cheapskate is making thrift shopping an upscale experience in franchise locations across the country. Check out the resale clothing store that Inc. Magazine, Forbes, and the BBC are talking about.

What We Do
The Uptown Cheapskate franchise offers shoppers an upscale experience while shopping for new and gently used, name brand clothing and accessories. Unlike typical consignment, Uptown Cheapskate pays their customers cash or offer in-store credit for gently used items and resells them at up to 70 percent less than found in traditional retail. This is recycling at its best as tens of thousands of items find new homes while helping communities stretch their budgets on fashionable apparel and accessories.

About Us
In 2009, the first Uptown Cheapskate opened its doors for business and since then, the franchise has grown to over 40 stores nationwide. As a family-run, closely knit franchise, we believe giving each and every franchise owner personalized support.
As a trademark brand of BaseCamp Franchising, Uptown Cheapskate brings the latest technologies and tools to an industry that's been experiencing major growth in the past decade. By providing a proprietary buying software and inventory management system, robust employee training, branded marketing and cloud-based reporting tools, we give our franchisees the tools they need to manage stores efficiently and effectively. With more than 20 years of industry experience, we stand behind the mantra that YOUR success is OUR success.

Why own an Uptown Cheapskate
Join a franchise that is recognized as one of the best in the country. Uptown Cheapskate offers incredible growth opportunities and excellent returns in the growing fashion resale industry. Uptown Cheapskate is a recognized resale brand that offers franchisees a proven system for success.

Reasons to own an Uptown Cheapskate:
1. Proven Systems
Our robust management tools and extensive training are effective, comprehensive, and streamlined. We've combined the best practices of our top stores into a complete store management package making for easier multi-store management, improved staff training and engagement, and dramatically improved operations.
2. Results-driven Marketing
From social media, web and email marketing to in-store graphics, public relations and car wraps, our upscale marketing materials are uniquely designed to speak to our shoppers. Our marketing stays current with today's trends in design, social media and more.
3. Beautifully-designed Stores
Just because we sell second-hand merchandise doesn't mean our stores look second-rate. Our stores are designed to promote a fun and friendly atmosphere. From our modern fixtures and lighting to our upscale signage and displays, we believe in creating an extraordinary brand experience.
4. Inventory Management and Appraisal Program (IMAP)
To take the guesswork out of brand valuation, Basecamp Franchising created a proprietary buying software dubbed IMAP (Inventory Management and Appraisal Program). IMAP suggests the price based upon inventory and condition so people from all walks of life and various fashion backgrounds can correctly price an item for sale in the store.
5. Real-time Reporting
With our cloud-based reports, franchise owners can efficiently manage inventory levels, product costs and pricing. These tools can also be accessed remotely, paving the way for store owners to manage multiple stores simultaneously.
6. Extensive Training
New Uptown Cheapskate owners complete a 12-day training program, followed by a 5 day internship. Ongoing training is also available for owners and staff through our online training portals, support calls, site visits, regional conferences, and our annual owner's conference.
7. Territory Availability
The flexibility to put stores in the best locations in a market is a huge advantage as you consider joining a franchise. Because we are a growing franchise, there are several great locations available in most areas for an Uptown Cheapskate store. This is especially important if you are looking at owning multiple stores over time to increase your market share or simply make more money. You'll receive demographic analysis, area mapping, and site selection assistance from our headquarters to help you choose the location that is right for you.
8. Continuous Support
From site selection and store set up to grand opening and growing profits, you'll have continuous support every step of the way. Based in Salt Lake City, Utah, our dedicated team offers computer, operational, marketing and financial support. Plus, our support representatives visit each store at least once a year to offer guidance and support where needed for success. Our owners also build and maintain strong friendships and mentorships with other store owners.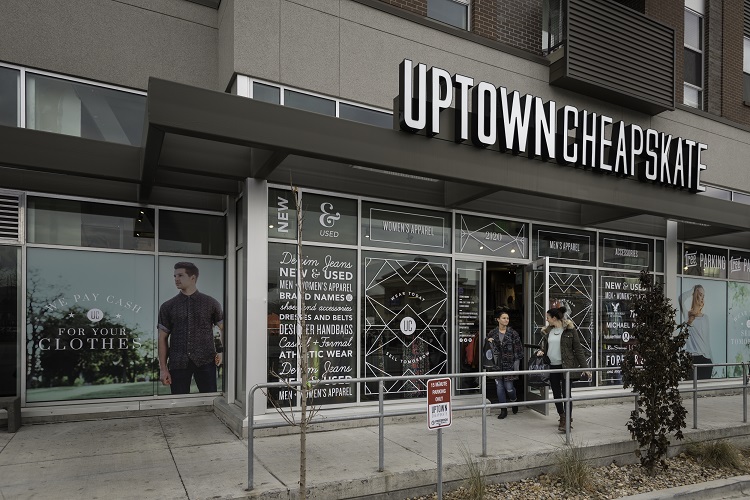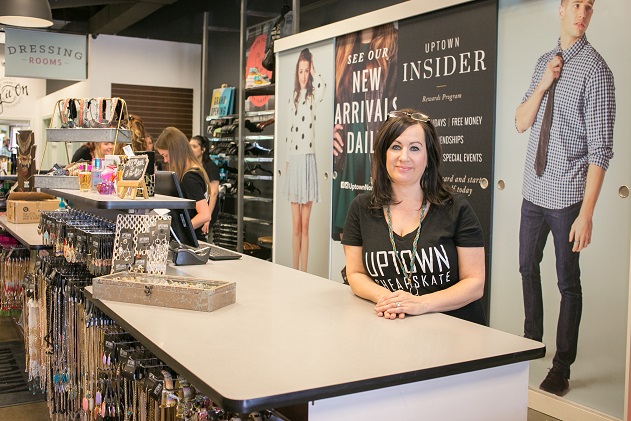 Our Ideal Candidate

We are looking for highly motivated, hard-working people with strong people management skills who are interested in working in a fast-paced enviroment. Full-time involvement is required the first year.
A Day In the Life of Our Franchisees

Our franchisees stay engaged with the management of their store and retail employees full-time in the beginning but can work themselves into a more semi-absentee role long-term with successful training and management. Day to day activities in the beginning would include buying product from customers, training employees, merchandising the store, checking out customers, the goal being to become an expert in all of these things so that long-term you can focus on employee management and training, inventory management, marketing, and bookkeeping.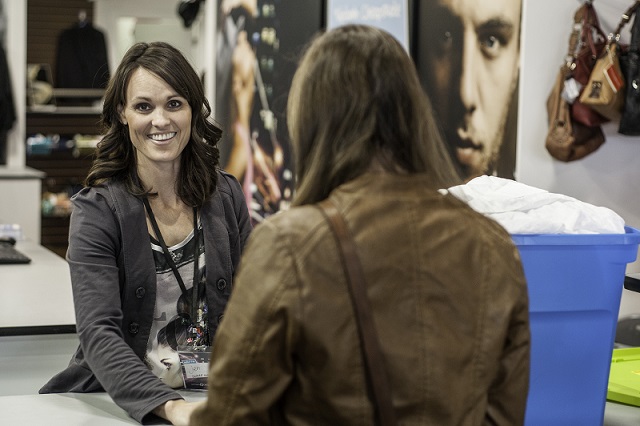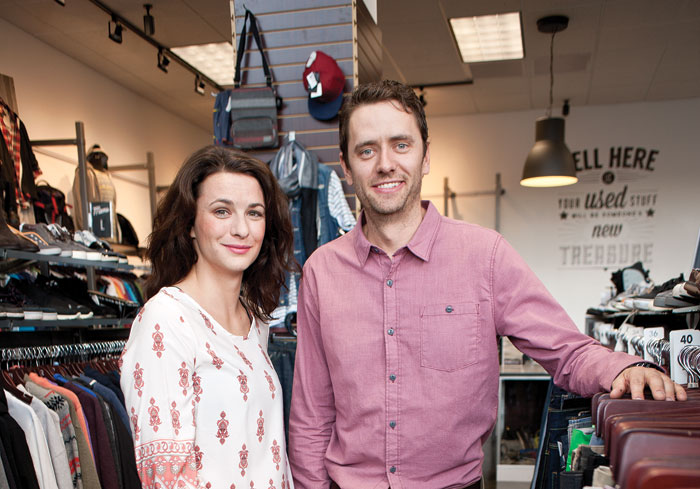 Franchisee Testimonials

"The support is fantastic, you can make a phone call, and talk to whoever you want to. They are always receptive to what you are asking, and if they don't know the answer they will find an answer for you. They listen to you and try to do the best for everybody. I think the technology support is fantastic, because I'm not a technology genius. I love that we have store visits and people come and help us. The whole concept in general is well thought out. There are always things that are going to change and we are going to be in that whirlwind of change, but it's always been helpful. They look over your numbers and call you, it's like they know your problems before you ask for help from them. I think the support is phenomenal."
Natalie and Lyle Armstrong - UC Springfield, MO

"We visited a store and just fell in love with the look of the store. We already knew we liked the concept, and then we just decided to go with Uptown Cheapskate. It's just owning your own business. I feel like this is a business that we can grow into several locations. We can bring our family members into it, so I see that this is a business that eventually our kids will be able to run and everyone can join in this business."
Margarette Baze - UC Norman, OK

"There is never a day that is the same for better or for worse. You never know what's coming in the door product wise. It's really nice being apart of the community and being a mainstay for Murray. Owning your own store and giving back is really special I think."
Justin Crump - UC Murray, UT

"You have all these other people that are like minded entrepreneurs, and everyone comes at everything a little differently. They bring into the system just different ideas, different thoughts, processes, from what they did before in their lives. You always have a sounding board no matter what the challenge can be- you have someone else to reach out to. It's easier being a part of the franchise with other owners where we are able to help each other out."
Emily and Nancy Schramm - UC Timonium, MD

"The support that we get from Basecamp has been great. They have been the best support for us because I am not a risk taker, and if I thought I had to do this on my own, I wouldn't have done it, and knowing there were smarter people than me behind it makes me feel better. We have the coolest store in town, we are the place to be and shop in Bossier City. Our store is the place to be and to be associated with that is awesome."
David and Shannon Linton - UC Bossier City, LA